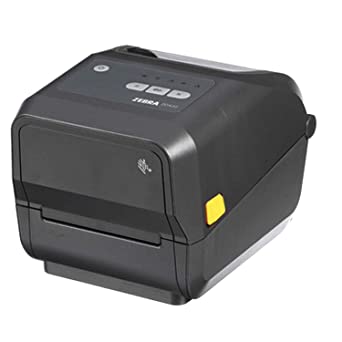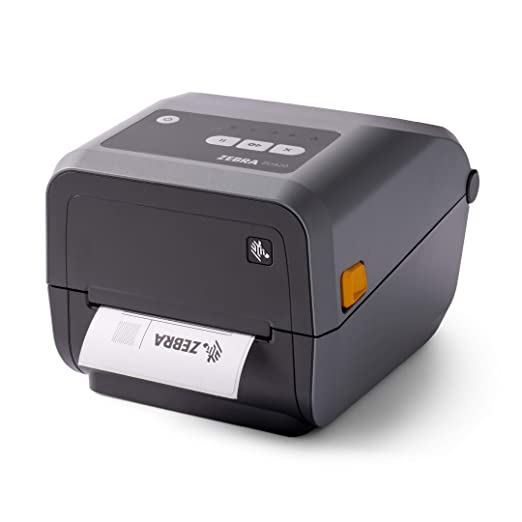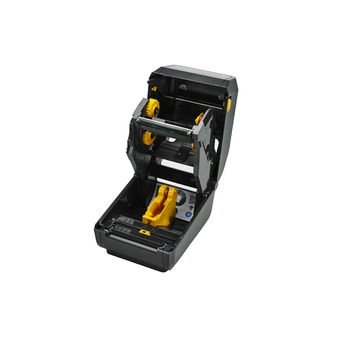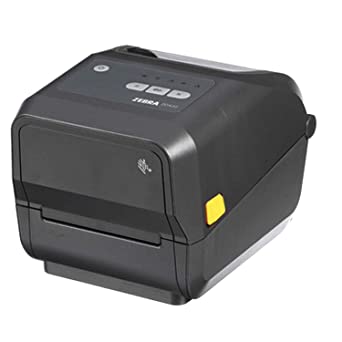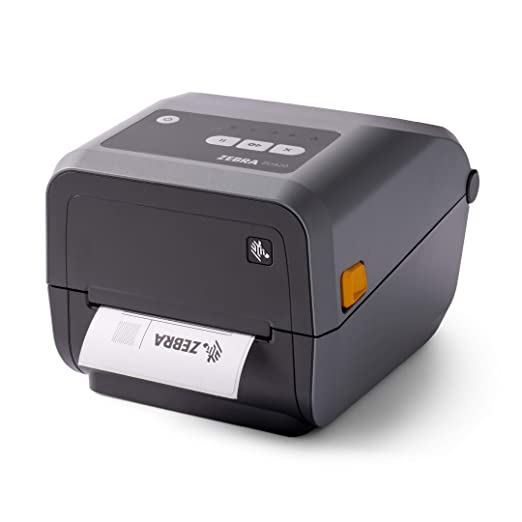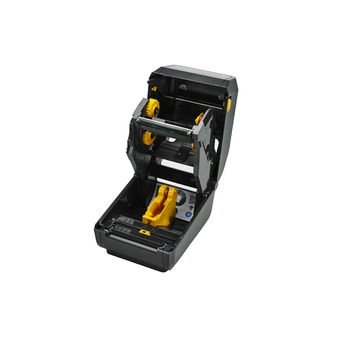 ZD420 4-INCH DESKTOP PRINTERS
---
A three-button user interface with five LED status icons replaces the typical single button/single light interface common in desktop printers. There's no guesswork involved - users can instantly see what's needed to keep printers up and running, from replenishing media to resolving printer issues.
With multiple connection options, you can connect the ZD420 to your existing wired and wireless networks, or directly to any PC. The ZD420 comes standard with USB and USB Host. You can also choose optional Ethernet or serial and a dual wireless radio that offers the very latest wireless options, Wi-Fi 802.11ac and MFi certified Bluetooth 4.1, which enables printing from any iOS device. And using the included Print Touch tag (NFC), users can simply tap a compatible mobile device on the ZD420 to pair and print.
With the removable desktop battery power option, you can easily transport the ZD420 printer on a cart to enable on-the-spot printing to reduce steps, increase productivity and improve task accuracy. The battery housing mounts securely to the printer base and connecting the battery is as simple as snapping the battery into the housing. And the high-capacity battery can power it all for a full shift - the printer at maximum print speed, along with a peeler, cutter and keyboard.
Print methods: Thermal Transfer or Direct Thermal
ZPL and EPL programming languages
5 status icon, 3 button user interface
USB 2.0, USB Host
OpenACCES for easy media loading
Dual-wall frame construction
ENERGY STAR certified
ZebraDesigner Essentials - easy label design tool free at www.zebra.com/zebradesigner
Two-year standard warranty
Dimension:
ZD420d: 8.69 in. L x 6.98 in. W x 5.93 in. H 220.8 mm L x 177.5 mm W x 150.7 mm H
ZD420t: 10.5 in. L x 8.0 in. W x 7.5 in. H 267 mm L x 202 mm W x 192 mm H
Weight
ZD420d: 3.6 lbs./1.6 kg
ZD420t: 5.3 lbs./2.4 kg
Resolution
203 dpi/8 dots per mm Optional 300 dpi/12 dots per mm Resolution can be factory installed or changed on site via accessory kits. Resolution can be changed from 300 dpi to 203 dpi, as well as from 203 dpi to 300 dpi
Memory
512 MB Flash; 256 MB SDRAM for factory installed network connectivity options 512 MB Flash;
128 MB SDRAM for printers without factory installed network connectivity options
Maximum Print Width
4.09 in./104 mm for 203 dpi
4.27 in./108 mm for 300 dpi
Maximum Print Speed
6 in./152 mm per second (203 dpi)
4 in./102 mm per second (300 dpi)
Media Sensors
Full width, moveable reflective/black mark sensor; multi-position transmissive/gap sensor.
Firmware
ZPL II; EPL 2; XML; ZBI
Label Length
39.0 in./991 mm
Media Width
0.585 in./15 mm to 4.65 in./118 mm
Media Roll Size
Maximum outer diameter: 5.00 in./127 mm
Core inner diameter: 0.5 in. (12.7 mm) and 1.0 in.
(25.4 mm) standard, 1.5 in. (38.1 mm), 2.0 in.,
(50.8 mm) and 3.0 in. (76.2 mm) using optional adapters
Media Thickness
0.003 in. (0.08 mm) min.; 0.0075 in. (0.1905 mm) max.)
Media Types
Roll-fed or fan-fold, die cut or continuous with or without black mark, tag stock, continuous receipt paper, and wristbands
Ribbon Outside Diameter
2.6 in./66 mm (300 m); 1.34 in./34 mm (74 m)
Ribbon Width
1.33 in./33.8 mm - 4.3 in./109.2 mm
Ribbon Standard Length
984 ft. (300 m); 244 ft. (74 m)
Ribbon Ratio

1:4 ribbon to media (300 m)
1:1 ribbon to media (74 m)

Ribbon Core I.D

300 Meter ribbon 1 in./25.4 mm
74 Meter ribbon 0.5 in./12.7 mm
>